What are Graduation Tassels?
Graduation tassels are beautiful and colored threads hanging on the graduation cap. It is a permanent outfit or we can say an accessory without which graduation cap is incomplete.
Tassel has a measure of nine inches, not includes the loop from which the tassel hangs.
You can find your favorite

Graduation tassels

in different colors online.
A Graduation tassel also includes a small metallic graduation year charm indicating the year, including options for past years.
Always brush out your graduation tassel so it will not be tangled.
Hook the tassel on the top button of the graduation cap.
What side does the graduation tassels go on before and after graduation?
Position It To The Correct Graduation Tassel Side.
For a high school commencement ceremony, tassels are worn on the right side of the cap before the ceremony and are then moved from the right side to the left after receiving a diploma or when directed to do so by the graduation speaker.
What is a Graduation Cap?
The graduation cap is a special cap that students wear on their heads at their high school or college graduation day. The hat is square in shape and flat from the top which is is called mortarboard. The hat includes a beautiful graduation tassel hanging along with it.
You can buy graduation caps and the whole graduation day outfit online at a great price.
How to wear Graduation Cap?
The cap with the attached graduation tassel should be worn on your head with one inch above your eyebrow.
The tassel should be worn on the right side of the cap before the graduation ceremony and on the left side after receiving a diploma.
The front direction of the cap to wear is indicated if you look inside it. The direction is written inside the cap with a description given by the company from which you have purchased the cap.
What is a Graduation Gown?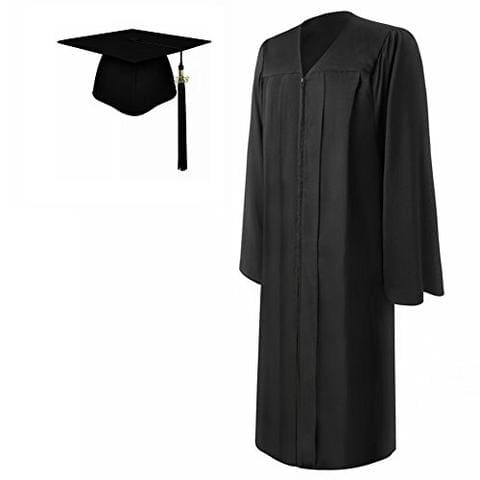 The graduation gown is a part of a graduation ceremony dress/outfit. It is worn by the students on the body during the graduation day celebration who have obtained a university degree, achievement, or holds a status that entitles them to assume.
How to wear a Graduation Gown?
People buy graduation gown and other components online before their graduation day celebration.
As soon as you got your graduation gown, remove it and other components from the bag in which they are packed.
Place the gown on the hanger, to get rid of any wrinkles on the gown, you can also soft iron the gown before hanging. Use a cool iron or streamer. (Do not wash or dry clean your gown)
Before wearing your graduation gown on graduation day, it will be better to try it out. A gown has a special locking zipper zip which guarantees the gown stays closed.
Check out your gown sleeves will fall below your elbow and above the palm of your hand, and the bottom of your gown should fall below the knee and above the ankle so your flats and heels don`t affect the gown any problem when you walk.
Move the tassel over the button over the cap. Look inside the cap and find the front of the cap. The cap should be flat and leveled to the floor. (You can see the instruction of how to wear a graduation cap above.)
Congratulations you have learned how to wear a graduation gown, I hope you will enjoy your graduation ceremony to the fullest.
Preschool Graduation Caps, Gowns, & Tassels
You can find different sizes available online for anyone between 2'10"-6'11".
Select the size that corresponds with your height. Plus sizes also available!
The cap and gown are generally made of a non-see-through tricot material with a matte finish.
There are a wide variety of colors available.
How to wear Graduation Hood?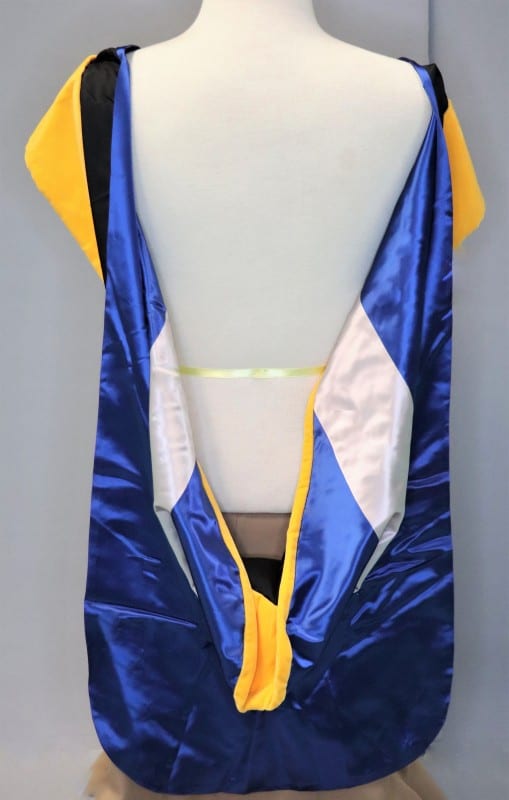 First, you need to understand your university policies for how to wear a graduation hood?. Generally, it will be placed on you by the university official.
During the participation of the graduation hood ceremony on your graduation day, you maybe need to drape hood over your shoulder or need to wait for the officials to place it on.
Get info about from your university to identify the specific hooding timeline and instructions.
Take your graduation hood out of the graduation outfit package.
Extend it on a flat surface. So you have a proper view of it and can easily drape it on your shoulder.
From the top to the bottom velvet lining on the graduation hood indicates the facing way that how it will be placed with its front side. The outside lining color will be according to your university.
Then place the hood around your neck, the tail of the hood should drape down on your back.
To follow this next step you need someone to help you out. The person needs to find the string on the velvet part of your hood.
From that point downturn, the fabric inside out so the inside color have a little appearance, and also makes sure the velvet and hood are flat across your back. Wrap the string around the button going across the hood and not under the hood.
You can use the string hanging from the v of the hood in the front to wrap around a button inside your gown. it will help you to hang the hood right.
Please follow this video tutorial if you want to understand how to wear a graduation hood? visually.
Graduation Hairstyles To Fit Your Graduation Cap 
Attempting to choose various haircuts for graduation can be more troublesome than expected, particularly for female graduates. Besides other basic recently graduate stresses like making a resume stand out and where to move after college, something else you may feel constrained to consider is looking good for your graduation photographs. For male graduates, you can style your hair as you do regularly. On the off chance that is not the situation, you can generally add gel item to make your hair be pleasant inside the graduation cap.
As per the female graduates, in case you're accustomed to brandishing ponytails or top-knot buns that won't fit under your square top, you can use these graduation haircut ideas and regular patterns to give a shot under your top for an easily lovely look. 
Short Hair Hat Styles 
You may feel limited with regards to styling alternatives for short hair under a graduation top, yet there are a bunch of simple choices and various looks you can perform. Style your pixie cut with chiseling splash or go with a general blast look that will astonish under your graduate top. You can generally hype your make-up for a progressively formal look that supplements your hairstyling. 
Mid-Length Hair Styles 
A couple of simple graduation hairstyles for mid-length hair include tight twists, smooth straight hair, or in the event that you would prefer not to wear your hair out a decent arrangement is a side twist. Just twist a couple of pieces, and you have an ideal look. 
Long Hair Hat Styles 
A typical graduation haircut pattern for long hair is to wear free twists or beachy waves. You can achieve these looks with a hair curler and afterward sifting your fingers through or by wearing your hair in plaits medium-term and spritzing it with a little hairspray the morning of so it remains set up.
Why do graduates wear square-shaped hats called graduation caps? & What is a mortarboard?
Every student remembers his/her graduation ceremony and if you have ever attended or watched a graduation ceremony then you must have noticed that all the students are wearing the same outfit. Did you ever think that why students always wear the same outfit and when this tradition started? The graduation caps are called mortarboards because they somewhat look like a tool used by the bricklayers to hold mortar. These graduation caps are sometimes also referred to as Oxford caps or Academic caps. The mortarboard is designed with a flat, square board attached with a skullcap and a graduation tassel in the center. There is also a theory that the mortarboard is similar to biretta, a hat worn by Roman Catholic clergy in the 14th and 15th centuries. These graduation caps are worn with formal gown or robe.
Why do graduates toss their graduation caps in the air?
The tradition of tossing caps started in Annapolis, Maryland, in the year 1912. Students of the Navy had to serve their first two years as midshipmen before becoming full-fledged officers, and they are required to wear a different hat during this time. When the midshipmen finally manage to graduate, a new hat was provided to the officers, & they celebrated by tossing their old caps into their air with joy. And from that time this tradition continued and now has become a part of the graduation ceremony of every school and college.
We hope you like this information and if you want to keep your memories fresh then you can write them down in a personalized notebook, or journal and you can also buy a nice leather journal for this purpose.