People have been using tally books at their workplace in oil, gas, mining, and many other industries for a long time. Despite the technological advancement and inclusion of digital devices, custom tally books are still a preferred method of performing various tasks like taking notes, managing employees, writing down measurements, daily work lists, etc.
What is a Tally Book?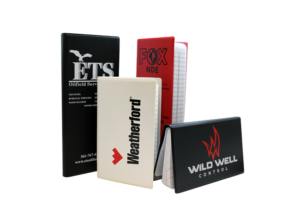 A tally book is simply a writing pad which is used by workers to take down notes and information. It sometimes consists of papers that are wire bound and covered by leather. Such tally books are known as Pipe Tally Books. When the pages of a tally book are filled completely, then you can also use tally book refills to start the work on it again. Such writing pads are used mostly in the oil industry, therefore, they are also sometimes referred to as oilfield tally books.
Why Are Custom Tally Books Used in The Oil & Gas Industry?
The employees rely heavily on using tally books because it provides them more flexibility and ease of access in comparison to computers. Although keeping all your data safe in computers is very efficient, but when you are working on oilfields, it is more convenient to write down all the important information on your tally book. Another advantage of a small tally book is; you can carry it easily in your pocket.
Difference between an ordinary Notepad & Tally book
Tally books are often accompanied with durable leather or vinyl cover which keeps the pages dry and safe when you are out in the field. Also, the paper used in oilfield tally books is stone paper. Stone paper is a bit different from the wood or pulp-based paper. It is very flexible, hard to tear, oil, and water-resistant.  It is a mineral-based paper, and it allows the tally book to become a better alternative to other methods of note-taking in the fields. Extra pages could also be inserted to store additional information in the form of tables and charts.
All these differences of Tally books from standard writing pads make them the best choice for companies in oil, gas, mining, and wind energy industry.
How can Tally books be used for marketing and advertising your company?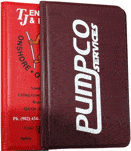 These days marketing the product and creating a remarkable brand is very important for every company. So, all the stationery items that you use in your business could also become part of your marketing strategy. You can get your company logo printed on the pipe tally book cover and personalize other design aspects as per your choice. A customized leather-bound tally book looks very nice and leaves a good impression on all your employees. You can also use tally books as a gift for your valued customers and business partners.
Using branded stationery items instills a sense of confidence and pride among the new employees. Including some pages in the tally book with some introductory information about your company is a great way to introduce recruits to the work culture of the organization.
So, get your personalized Tally Book at affordable prices and improve your brand image.